Professional Agile Leadership - Essentials (PAL-E)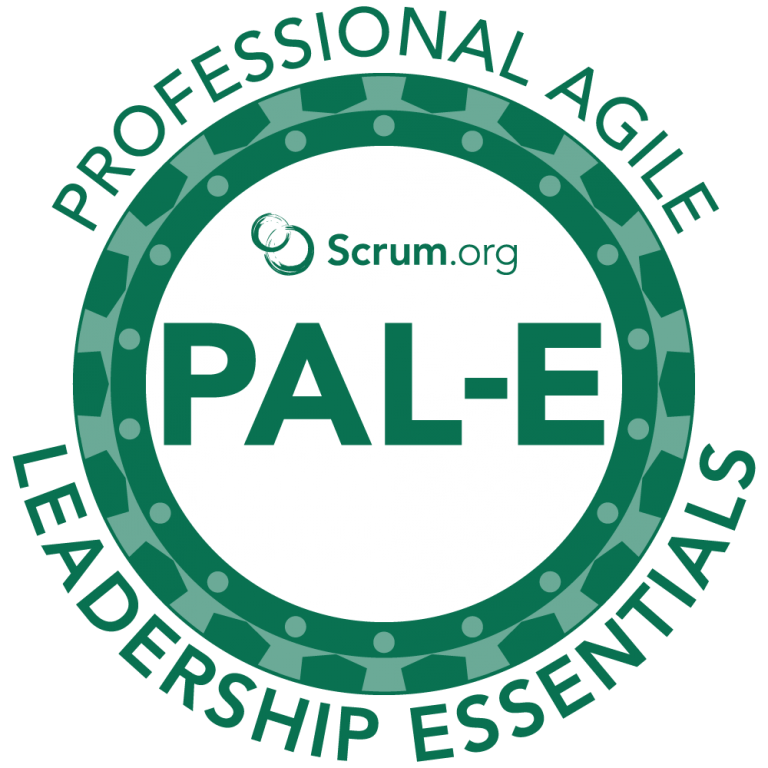 Professional Agile Leadership
The Professional Agile Leadership Essentials (PAL-E) is a 2-days workshop that helps managers and leaders who work directly with agile teams understand how to best support, guide, and coach their teams to improve their agile capabilities. The workshop provides a foundation for the role that leaders play in creating the conditions for a successful agile transformation.
The PAL-E course from scrum.org is much more than just a set of slides and an instructor. In these highly engaged and interactive course students work on real-life cases with other classmates together as a team, learn through team assignments, discussions, and hands-on exercises.
Who is this course for
The Professional Agile Leadership Essentials course is designed for managers and those in leadership roles including Product Owners and Scrum Masters who want to grow their organization's ability to respond to market opportunities, competitive pressures, or opportunities for innovation. For those who are responsible for the introduction and establishment of Agile methods and techniques in a team or organization.
Theory and principles.
We will learn about Agile Values and Principles, about complexity, what does it mean in software environments. We will learn about empiricism and how it can help us in a complex environment.
Developing People.
You will learn how to help people and teams to grow and develop their maturity. How to lead with goals and Intent.
Measuring Agility.
How to measure success and what metrics can you use to measure progress of your teams and organization.
Value Delivery.
How does servant leadership impacts value delivery of the organization.
Growing Agility.
You will learn how to grow agility within teams and organization. How to grow values in teams and organization.
What do you take with you
You will be challenged to think in terms of Servant Leadership and the Agile principles to better understand what to do when return to your workplace.
You will understand where and how agility can help your organization improve, by addressing challenges you can solve in no other way.
You will understand how agile teams work and what you, as a manager or leader, can do to help them to improve.
You will also be able to quantify the benefits of improving the agility of your organization through concrete measures.
Understand how culture and values influence your organization's ability to gain the benefits of agility
Practical skills for helping to guide and coach agile teams, and to help them remove impediments
You have received very strong learning on your Leadership journey, done a big step on your career, and found great connections that help you grow. But also…
Learned the principles of the Agile Leadership.
Learned about the role of Agile Leader.
Experienced the role of Agile Leader in a variety of exercises.
Learned new practices and got new tips that can help you on your journey.
Took part in the highest quality Scrum course on the market
Spent time on engaging exercises, discussions, and learning
Worked through consistent training material maintained by Scrum.org.
Learned from the trainer's personal practical experience using a large number of real-life examples.
You take with you:
Training materials and Handouts
Images of all flipcharts and materials created during the class.
2 Free Attempts for the Professional Agile Leadership Assessment
14 PMI-PDU-Credits
The Professional Agile Leadership - Essentials course is associated with the Professional Agile Leadership (PAL) credential by Scrum.org.
Alle Teilnehmer, die den Professional Agile Leadership – Essentials Kurs absolvieren, erhalten ein Passwort, um das PAL-Assessment zu versuchen. Diese von der Industrie anerkannten Zertifizierungen erfordern eine Mindestpunktzahl für das Bestehen der entsprechenden Prüfung. Teilnehmer des PAL-Kurses, die innerhalb von 14 Tagen nach Erhalt des kostenlosen Passworts die PAL-Prüfung versuchen und nicht mindestens 85% erreichen, erhalten einen zweiten Versuch kostenlos.
Professional Agile Leadership assessment proves solid Agile Leadership knowledge. Assessment is taken online and in English. It contains 36 questions, is timeboxed to 60 minutes, and requires at least 85% score to successfully pass.
Professional Agile Leadership dates
Our 
Prices
:
First Bird Ticket: EUR 1.295,00 per Ticket plus VAT. First 5 Tickets discount.
Standard price: EUR 1.395,00 plus VAT
For a group price please, contact us.
Nothing that suits you? Have any special request? Feel free to contact us!
After registering for training you will receive a confirmation email with practical information. One week before the training we will contact you and exchange literature if the preparation is needed. 
Additional information:
First 5 tickets can give you an early bird discount.
If you want to register more than two participants, we also offer attractive group discounts.
In case of cancellation or rebooking up to 14 days beginning of the event = no refund.
All prices on the website are without VAT.