Applying Professional Scrum (APS)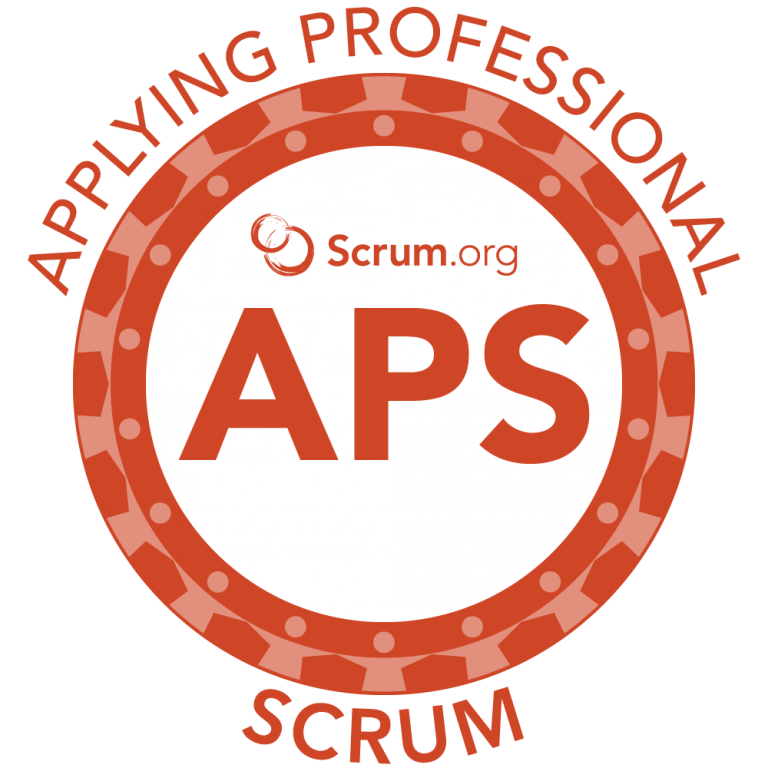 Applying Professional Scrum
Applying Professional Scrum (APS) is a 2-day course that provides the foundational knowledge needed to work with Scrum in a highly practical way. The course is a combination of instruction and team based exercises where students experience how the Scrum framework improves product delivery efforts.
The APS course from scrum.org is much more than just a set of slides and an instructor. In these highly engaged and interactive course students work on real-life cases with other classmates together as a team, learn through team assignments, discussions, and hands-on exercises. The course also includes a free attempt at the globally recognized Professional Scrum Master I certification exam (PSM I).
Who is this course for
Der APS-Kurs ist für Menschen gedacht, die das Beste aus ihrer Organisation und ihren Mitarbeitern herausholen wollen. Für alle, die daran interessiert sind, Teil eines Scrum-Teams zu sein, mit einen Scrum Team zusammenzuarbeiten oder sie zu leiten. Der Kurs "Applying Professional Scrum" eignet sich hervorragend für Organisationen, Teams und alle andere, wer die Arbeitsweise von Scrum kennenlernen möchte.
The course provides the foundation knowledge needed for role-focused training for Product Owners, Scrum Masters, Developers, and Leaders within the organisation.
Scrum Simulation
We will be producing a working product based on a backlog. This case study project is continued over the two-day class, allowing us to learn some theory and then put it straight into practice.
Scrum basics, principles, and values
Scrum basics, principles, and values
We will learn about complexity, what does it mean in software environments. We will learn about empiricism and how it can help us in a complex environment.
The Scrum Framework.
We will learn about what Scrum is, how does it relate to Agility, and what is the difference between Scrum and other approaches. We will learn about Rules, Events, and Artefacts of Scrum and tie it back to the values and principles.
Mastering Scrum
We'll explore the ideas of self-organisation, cross functional teams and cross-functional people and the accountabilities that arise from developers owning their sprint backlog.
Start of your Scrum Journey
Start of your Scrum Journey
The course concludes with practical tips on how to go about kicking off a scrum transformation.
What do you take with you
You have received very strong learning on your Scrum journey, done a big step on your Scrum career, and found great connections that help you grow. But also…
Learned the principles and rules of the Scrum framework.
Learned new practices and got new tips that can help you on your journey.
Took part in the highest quality Scrum course on the market
Spent time on engaging exercises, discussions, and learning
Worked through consistent training material maintained by Scrum.org.
Learned from the trainer's personal practical experience using a large number of real-life examples.
You take with you:
Training materials and Handouts
Images of all flipcharts and materials created during the class.
2 Free Attempts for the Professional Scrum Master I Assessment
14 PMI PDU Credits
The Applying Professional Scrum course is associated with the Professional Scrum Master I (PSM I) credential by Scrum.org.
All participants completing the course will receive a password to attempt the PSM I assessment and are qualified for a discount on the PSM II assessment. These industry-recognized certifications require a minimum passing score on the associated assessment. PSM class participants who attempt the PSM I assessment within 14 days of receiving their free passwords and do not score at least 85% will be granted a 2nd attempt free of charge.
Professional Scrum Master I assessment proves solid Scrum framework knowledge, its principles, and rules, as described in the official Scrum Guide. Assessment is taken online and in English. It contains 80 questions, is timeboxed to 60 minutes, and requires at least 85% score to successfully pass.
Applying Professional Scrum dates
Our 
Prices
:
First Bird Ticket: EUR 1.195,00 per Ticket plus VAT. First 5 Tickets discount.
Standart Price: EUR 1.295,00 per Ticket plus VAT.
For a group price please, contact us.
Nothing that suits you? Have any special request? Feel free to contact us!
After registering for training you will receive a confirmation email with practical information. One week before the training we will contact you and exchange literature if the preparation is needed. 
Additional information:
First 5 tickets can give you an early bird discount.
If you want to register more than two participants, we also offer attractive group discounts.
In case of cancellation or rebooking up to 14 days beginning of the event = no refund.
All prices on the website are without VAT.